【Tip 1】A good time to shop is after 9 o'clock on Saturdays
The outer market opens from 5:00 am, but early morning is for professionals.
It is good to go between 9:00 in the morning to 1:00 pm.
It gets crowded on Mondays, Fridays and Saturdays. You can get good deals for fresh food on Saturdays.
Many stores are open until around 2:00 pm on this day.
【Tip 2】Asking for a discount is not necessarily good
Because every store is proud of the quality of their products, they would not like it if you try to ask for a discount without understanding the qualities of their products. (Example: Raw ones are more expensive than frozen ones)
【Tip 3】 It's best to ask those who work at the stores
When you don't know about the quality of the products or want to buy within a budget, the shop staff will teach you anything.
Their manner of speaking may seem rough, but they are kind. Rather than pretending to know, steal knowledge of the products from the professionals.
【Tip 4】Group buying gives you a good deal
Originally, these stores specialize in wholesale, so they use "box" as a unit for selling dried fish and "whole (the whole fish)" as a unit for selling large fish. It takes time to cut up fish and odd pieces tend to remain unsold; therefore, their prices go down. If you take note of that and make a bulk purchase, then you can buy it cheaper!
【Tip 5】How to tell if a store is positive about retailing
Usually, wholesale stores close around 9 o'clock. Those stores that are open after that which display their items at their storefronts individually and not in boxes that have detailed price display indications are positive about retailing.
If the display is in gram unit, then it starts from 100 grams, and if fish are not packaged then they sell a fish as a unit.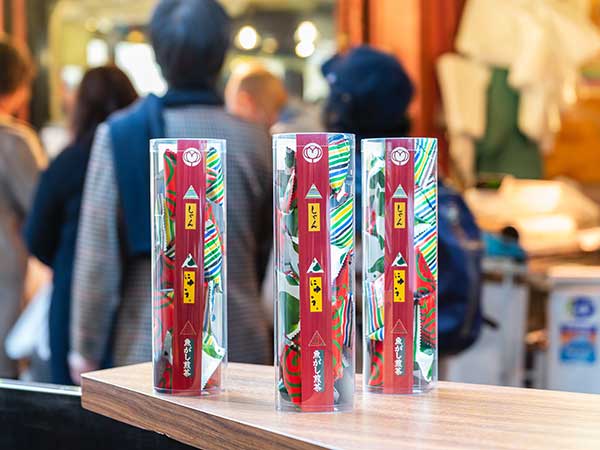 【Tip 6】Order clearly. Tempo is important
There is a unique rhythm here. If the tempo matches, shopping becomes more fun. Bringing out the generousness of the sellers is up to "how well you understand" as buyers.
【Tip 7】Tsukiji Fashion
No matter how close it may be to Ginza, dressing up is a big no-no. Come dressed in clothes that you would not mind even if fish splashes water on you! Those from the downtown dislike putting on a sophisticated attitude more than anything.
【Tip 8】Become a "frequenter" by visiting often
Because the sellers are compassionate, they are completely easy on regulars. They are flexible and will give you information about other stores as well. We are sure you will find your favorites out of the 420 stores. A senior figure of the "outer market" was saying the following. "If you want to understand Tsukiji, come and buy first.