Facing tea and people straight on
Tomohiro Tsuchiya, the president of Uogashi-Meicha Co., Ltd., talks about his thoughts on business.
We shall consider what Uogashi Meicha has been valuing as the times keep on changing and the challenges we shall meet.
Thoughts from our representative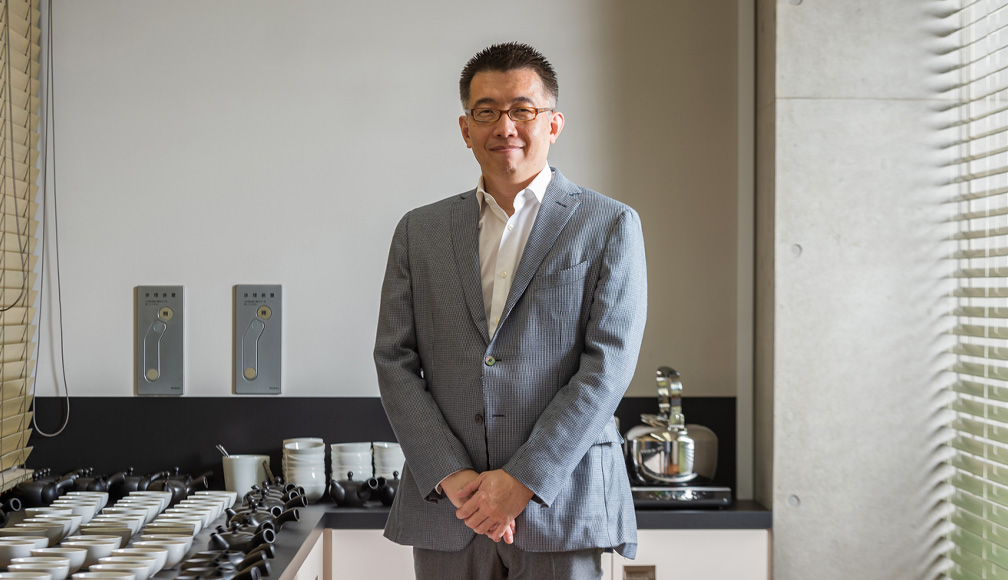 Since it was founded in1931, we have solely been in this business for the long run. It was all possible due to those customers who patronize us, our clients who have helped us along the way, and the employees who work with us. I would like to express my sincere appreciation.

With the help of these people, if there is a secret to our continuing business, it would be the fact that we stick to the "basics". We believe that's all there's to it. The basics is not about keeping things well on the surface level, but facing the essence of things and continuing to think. When I became the president myself, the first thing I worked on was to change the policy from sales to management that focuses on corporate values. When we increased the ratio of company stores and strived to improve the expertise of our employees, our sales decreased, however, our profits rose as a result of it. Also, when I evaluate our employees, I've been trying not to evaluate sales on the surface level, but rather their attitudes towards each job. How customers want to be served, what kind of product they expect and what we need to learn to provide this. Business is something you never tire of. I have been telling them to think about the core value without getting tired as they keep doing repetitive work. This way of thinking gradually permeated and I feel there are many employees who understand the importance of the basics.

When we look at the environment surrounding Japanese teas, there is domestic concern over population decline. On the other hand, the attention from overseas is increasing day by day. We believe our business still has room for growth. An exciting future awaits us such as enhancing international shipping, opening our company stores overseas etc. Together with our reliable employees, we will continue pushing things forward to prolong the history of Uogashi Meicha even further. Tomohiro Tsuchiya, President.