2020.02.27
You would assume that tea houses mainly sell tea, however.
Uogashi Meicha's products are planned and sold with everyday use in mind.
The price of 100 gram is 600 ~ 800 yen*1
Our lineup is for daily drinking and not for gifts or special occasions. We asked president Tsuchiya why he is particular about everyday teas.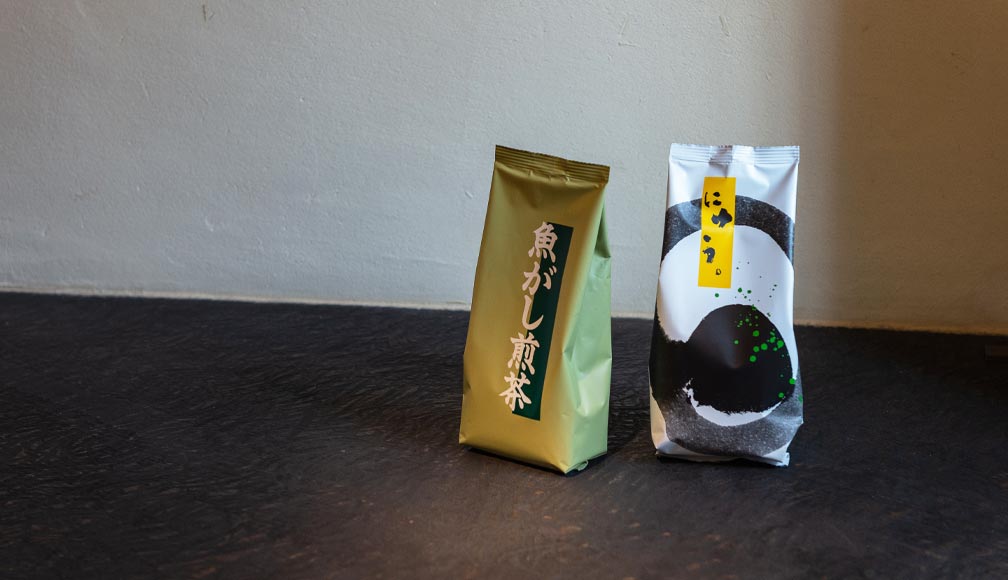 "To begin with, tea is secondary. When you operate tea stores, you tend to think tea is the main thing. However, it's unlikely that tea is drunk by itself. It's usually together with meals or sweets, right? It is the basic part so to speak. So, if customers like our teas, their visiting frequency shall increase. On the other hand, if you sell only luxury items, it does not easily lead to repeat business."

There you go. Basics once again. The employees hear these words over and over. There's nothing special about it. Basics matter. And, the basics of Japanese tea is to drink with meals. Teas for everyday use.

"That's why we learn more from manufacturing or sales methods of Japanese sake or wine rather than how other tea shops do things. They each have a unique taste, yet complements meals well. It's amazing. I think that's how Japanese teas should be as well."

Maybe you just love alcoholic beverages? We are tempted to think that way, but he has a point. So, what kind of flavor and aroma are required for teas for everyday use?
The keys to everyday use teas are bitterness and astringency.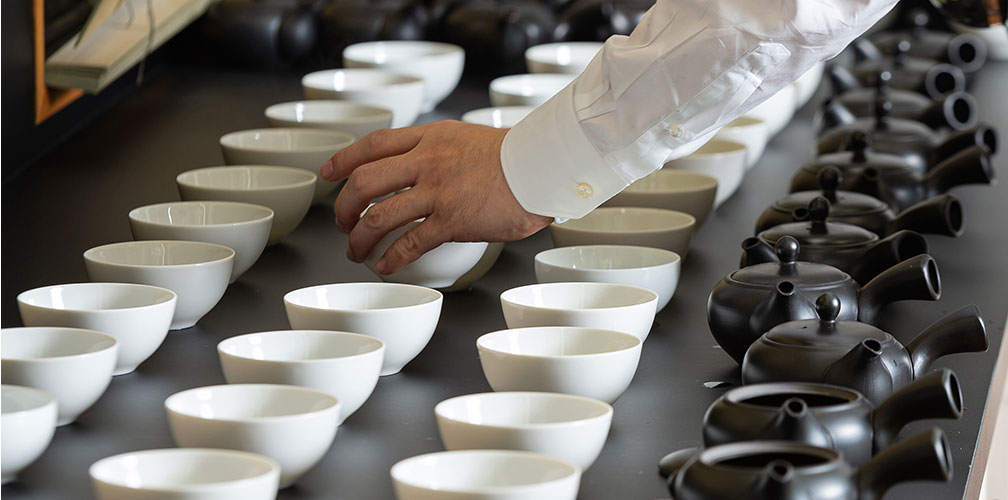 Tsuchiya's answer is good bitterness and astringency.

"When I watch TV commercials for tea in plastic bottles, they often emphasize sweetness. There are some shops that appeal to sweetness. But, I think teas that are just sweet lack characters and you would tire of drinking them. Bitterness and astringency make the taste intricate and give teas their characteristics. Just like how acidity becomes the characteristics of a wine, bitterness and astringency are important flavors for Japanese teas."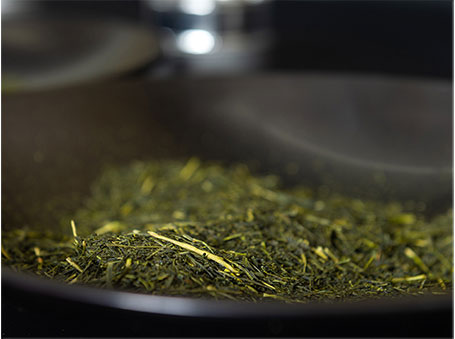 I had a look on my face that I was not quite getting it when he talked about bitterness and astringency, so he gave me an example that's easy to understand.

"When you sprinkle watermelon with salt, it tastes sweeter than when there is nothing on it, right? In the same way, tea with a moderate bitterness and astringency feels sweeter, and if you drink it between meals, it feels sweeter. Of course, if bitterness and astringency get too strong, then you cannot savor sweetness, so it has to be just the right balance."

I see, I have tried watermelon with salt. It's a mystery that sweetness increases by putting something salty in it. Taste is interesting.
Tea masters blend Aracha (crude teas) with their sensibility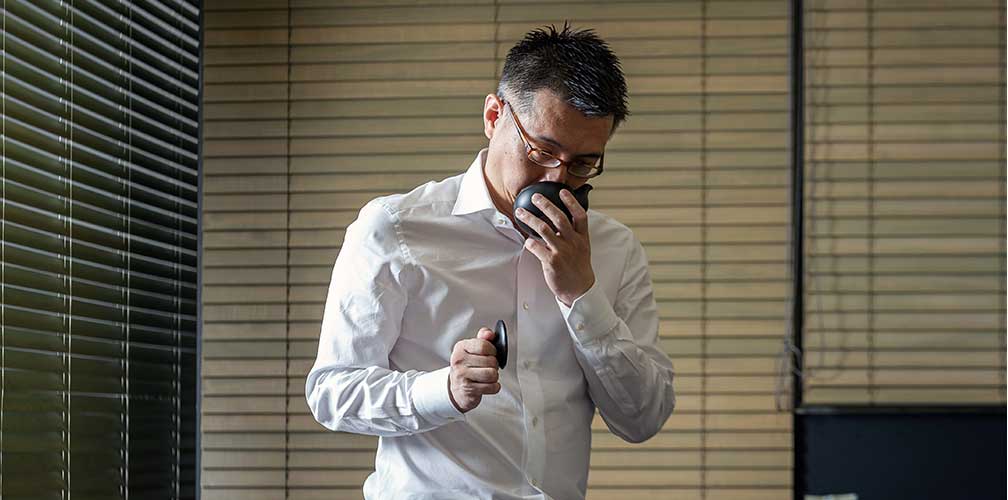 We talked about adjusting the taste balance, but did you know that teas available in the market blend many kinds of tea leaves? Tea leaves gathered from each farmer are called Aracha, and their taste and aroma vary widely. It may be easy to understand if you imagine coffee beans or unprocessed whiskey. We blend and achieve a good balance of Aracha although it may have a bad balance by itself.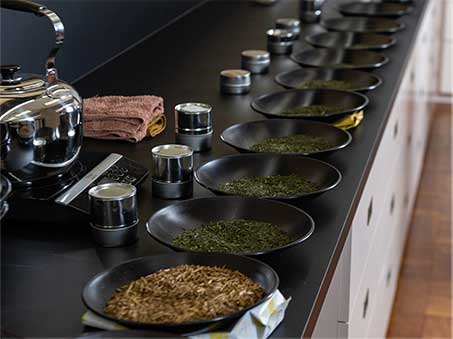 "The balance when it is still Aracha does not necessarily match the quality of blended tea. Even Aracha that has too strong of a characteristic can play an important role by adding it to the blend. The blender who determines that is a tea master. If the tea master is skilled, he or she can combine unbalanced Aracha and come up with a well-balanced good tea. If the person is not skilled, you would get tea that's just heavy and flavorless.

Tsuchiya himself blends all teas sold at Uogashi Meicha. He says the key for blending is not to take notes on the ratio of the blend, but to blend with a new feeling every year.

"For example, in one year, let's say you blended two types of Aracha at a ratio of 2:1 to get the result you desire. Do you think it would work if you used the same recipe the following year? It will never turn out the way you expect. Aracha is a natural product, so even if you grow it in the same place using the same method, the taste and aroma would differ every time. So, it is necessary to have the ability to make tea from a scratch by sharpening your senses each time and not just repeating successful experiences of the past.

Even in the entire country of Japan, there are not that many tea masters. The number is speculated to decrease even more in the future. At Uogashi Meicha, there are employees who are getting a training from Tsuchiya so that successors will be raised. Let me introduce you about it in this feature some other time.

*1 Except for some special products. Rare tea leaves, such as Hongyokuro that are ranked high in exhibitions, are sold in a separate price range as high-grade luxury products.

Click here to purchase